The encyclopedia of Australian architecture, edited by Philip Goad and Julie Willis.
Port Melbourne, Vic.: Cambridge University Press 2012.
At over 700 pages and including 500 photographs and drawings, this book provides a comprehensive account of Australian architecture, from indigenous beginnings through colonial, modern and contemporary works.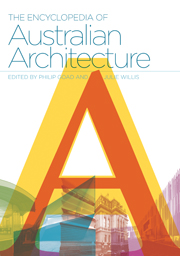 This guide helps you to research the history of your house or a prominent Melbourne building. The State Library of Victoria holds many resources including books, maps, architectural drawings, online databases and indexes which may help you with your search.
Click onto the tabs across the top of this page for more detailed information on each topic. The suggested catalogue searches and resources listed will provide more detailed information.
Good luck with your research.
In this video, Mary Lewis, from the State Library of Victoria, shows off the winning entry for the Flinders Street Station design competition, dated 1902.
Flinders Street Railway Station, H93.452/4
Extinct Melbourne buildings
[Flinders Street, Melbourne, showing Fish Market Buildings], H11709
The website Walking Melbourne contains a demolished buildings database, with pictures and construction details.
State Library Victoria
328 Swanston Street
Melbourne VIC 3000 Australia
+61 3 8664 7000